July 8, 2014
Voluptuous: Works for Solo Piano - Available Now from CDBaby and artist-direct on BandCamp!

Voluptuous: Works for Solo Piano is now available at BandCamp. Two large-scale works for solo piano, composed and performed by Nick Chase are included on the album. The 18-minute title track, Voluptuous integrates electronic fields and computer signal processing with live piano. Written between 2009-2012 and partly developed in residence at Rensselaer Polytechnic Institute, the recording was made during an artist residency at Jack Straw Productions in Seattle.
The album also features an acoustic recording of Songs of the Thirsty Sword that opened the 2008 New Music+ Festival (Janacek Academie of Music and Performing Arts, Czech Republic) with support from the Foundation for Contemporary Arts, and was recorded at the Maybeck Recital Hall that same Autumn. Chase has performed the 32-minute opus alongside animated projected film in Europe and both coasts of the US. A preview of the electronic version with accompanying film can be seen here at Vimeo.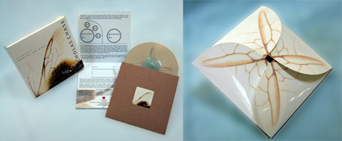 Update October 21:
Limited Edition CD SOLD OUT!
The Limited, Numbered Edition CD of Voluptuous is available and shipping. The Limited Edition CD includes a physical CD mailed directly to you, artwork, and a uniquely designed sleeve and booklet. A very small number of these CDs have been produced—only three copies left! Get yours at nfchase.bandcamp.com.
---
Friday April 25 2014
3:10-4:40PM
Infinite Interiors: A Paper on Silence by NFChase
International Association for the Study of Environment, Space, & Place
California Institute of the Arts
24700 McBean Parkway
Valencia, CA 91355
Chase presents Infinite Interiors: Reframing Silence at the tenth annual conference of the International Association for the Study of Environment, Space, & Place.
The paper juxtaposes the "silences" of John Cage against more energized and engaged practices of Musical Stillness Chase has pursued, connected to Yoga and Japanese Zen Buddhism. This writing is a result of practice-based, creative research begun in 2009 and is the first in a series of writings that outline Chase's recent body of musical compositions.
---

March 15, 2014
Saida composed and performed by NFChase.
More free tracks available here.
Free Download
---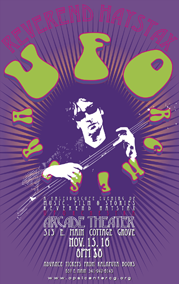 November 15 & 16, 2013
Reverend Haystax UFOrchestra:
11 Ideas (About People & Stuff)
8:00PM
Arcade Theater
513 E. Main St.
Cottage Grove OR 97424
tickets $8
(Advance Tix at Kalapuya Books
637 E. Main)
www.opalcentercg.org

Chase is joined by friends to perform new music and showcase his film-opera 11 Ideas in Old Town Cottage Grove's Arcade Theater.

Reverend Haystax (aka NFChase) opens the evening with "Music from the Mother Ship" a world-premiere musical performance guaranteed to please intelligent life throughout the galaxy.

---
Friday & Saturday, September 5 and 6 2013
8PM
Something to Declare
Heidi Duckler Dance Theater Northwest
Portland Customhouse
220 NW 8th Ave.
Porltand Grove, OR
Tickets $25
www.heididuckler.org

Chase performs with Robin Lorentz as part of Heidi Duckler's
Something to Declare
a site-specific work by Duckler's Dance Theater Northwest company. Duckler and her company perform an original site-specific work at Portland's historic Customhouse. Made in residence at Reed College, Duckler invites guests Chase, Lorentz, and David York as part of the evening-long dance theater.
---
Friday, July 26 2013


Meditative Music
6PM-8PM
Arcade Theater
513 E. Main St.
Cottage Grove, OR
Free or donation to the theater.
Chase performs "Songs of the Thirsty Sword" for piano and video projection during the Friday Artwalk at Arcade Theater. Stroll in, chill a little, come and go as you please. There will be two performances starting at a little after 6 and a little after 7.

---
November 7, 2012
Ngoma Lungundu - Live, in the Street!
(sub) Urban Projections
7:30pm
Oak Street Alley at 10th St.
(behind the DAC)
Eugene, OR 97401
suburbanprojections.wordpress.com
www.facebook.com/pages/subUrban-Projections

Four years in the making, Ngoma Lungundu will be presented in its culminating form at (sub) Urban Projections: outdoors, integrating original music, animated light and image with the urban environment. Chase has continuously developed the ballet since its premiere in the Czech Republic, opening the Setkavani Nove Hudby Plus Festival of 2008.

Ngoma Lungundu incorporates EDM, video game music and abstract electronic noise to create a sonic landscape that folds itself into the native sounds of the urban streets. Animated light projections echo passing cars, moonlight in the trees, bringing a cast of ephemeral, fantom dancers to the street. Check out a sample of Ngoma Lungundu (Live) on Vimeo.

Music to Ngoma Lungundu is available for download here.


(sub) Urban Projections 2012 will span three evenings: Nov. 7, 10, and 12, and take place in three different locations across town. Visit the web page to learn about featured artists, locations and times.
---
September 12, 2012
7PM
Composer Spotlight
Jack Straw Productions
4261 Roosevelt Way NE
Seattle, WA 98105
www.jackstraw.org

In his ongoing quest for unusual musical possibilities, independent composer and Jack Straw resident artist N F Chase has made music using music stands, mannequin limbs, walkie-talkies, lying inside a piano, on a bicycle--and more traditionally singing and talking, and by playing the piano keys. Chase will talk about and play some of his recent musical 'eclection.'
---
July 15, 2012
New Music available NOW on BandCamp
NIRUSU III: MartinIIIs at the Maybeck
Click image to hear it, click here to own it!



The lethal improvising trio NIRUSU III - recorded at last! Hailed by the LA Weekly as "a master trio pushing the edge of audio-visual improv," this is the group's full-length studio recording made at the legendary Maybeck Recital Hall. NIRUSU III is legendary improviser Susan Allen on harp, Korean kayagum and omnichord, UK jazz bass virtuoso Rus Pearson, and NF Chase doing strange things with DJ turntables and laptop, "MartinIIIs at the Maybeck" captures the spirit and hilarity of NIRUSU III's adventurousness, insanity and surprising musicality.
---
June 16, 2012
Preview of Bhajan
Celebrating 50 Years of Jack Straw Productions
4261 Roosevelt Way NE
Jack Straw New Media Gallery
Seattle, WA 98105
www.jackstraw.org

As part of their marathon celebration event, Jack Straw Productions presents NF Chase & Robin Lorentz in a preview of Bhajan (see PodCast below!). The Marathon Celebration begins 7pm Friday June 15th, with Chase & Lorentz taking the stage sometime after 6:30pm, Saturday, June 16 - exact time to be announced. Come see all the festivities

---
New work published in EMERGENCY INDEX 2011
Come celebrate at The Launch Party!
Tuesday March 20, 2012
7-9pm
The Kitchen
512 West 19th Street, New York
Get your copy of the publication here.
Emergency INDEX is a new yearly publication documenting performance in the words of its creators. This first volume contains nearly 250 descriptions of performances of dance, poetry, protest, theater, music, therapy, scientific research, advertising, terrorism, and more. We will celebrate the book and its contributors with a performance-filled evening at The Kitchen. Please join editors Matvei Yankelevich and Yelena Gluzman for performances by Marilyn Arsem, Joyce Cho & Machiqq, Lindsey Drury, Allie Avital Tsypin and Gabrielle Herbst, and Ariel Goldberg, as well as video screenings, the Homeless Museum of Art, Rebecca Cunningham's "One", and Camila Caneque and her Dress. Admission will be free, wine will flow, and the book will fill you with wonder.
The volume includes a short article and excerpt of the score to my recent work Gin Blossoms & Broccoli Boutonnères premiered by Jill Heinke at the inaugural Other Minds Composer Fellows concert in San Francisco last year. A clip of Jill's stellar repeat performance at the San Francisco Conservatory will be part of the goings on at The Launch Party. Come one, come all! Good friends, good drink, good art!
---
February 25-27, 2012
Residency at Jack Straw, Seattle
Jack Straw Productions
4261 Roosevelt Way NE
Seattle, WA 98105

Chase will record premiere works for his upcoming CD release, SOLIFUGE: The Velvet Watt Vol. 2. The recording is made possible through an an artist's support award from Jack Straw Productions in Seattle, and will be engineered by Jack Straw's crew in their recording facilities. The CD will feature new electronic/interactive works premiered in performance at Jack Straw this Spring. Chase began residence in October 2011, recording two small works for the project.

The February Jack Straw sessions include recording of two large-scale musical pieces for solo instrument and interactive electronics, performed by world class soloists - details to be relased soon!
---